Established in 2004, Binh Minh P.A.T Co., Ltd is one of the most prestigious paper packaging manufacturers in HCMC, specializing in designing and producing ✔ CARDBOARD BOX ✔ PAPER BOX ✔ PAPER SHELF ✔ PAPER BAGS ✔ PAPER TRAYS ✔ OFF PRINTING CARTON BOX ✔ CARDBOARD CAT SCRATCHER.
Our merits:
✓ Advanced technologies imported from Japan and the EU.
✓ Total Revenue: US$35 Million - US$50 million
✓ More than 300 employees working in the company
✓ Production capacity: 100 million sqm of products per year
✓ Achieved certificates: ISO 14001:2015, ISO 9001:2015, FSC, etc.
✓ Awards: ASEAN High-Quality Goods And Services 2018, Typical Brand of ASEAN 2018, Alibaba TrustPass, etc.
✓ Main markets: Oceania, Southern Europe, Northern Europe, Eastern Asia, South America, etc.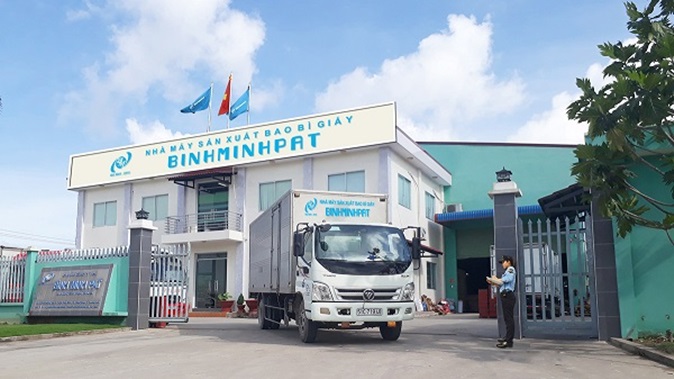 Why choose us?
● One-step service: We handle all processes of packaging production, including cutting, printing, surface treating, packing, delivery, so that we ensure the highest quality.
● We assist customers in designing samples, choosing the appropriate ones for the most satisfying products.
● We commit to choosing the best materials, ensuring the durability of all products.
__________________________________________________________________________________
CONTACT US:
Office:
Add: Lot A59/I Road 7, Vinh Loc IP, Binh Tan Dist, HCM City
Tel: +84 28 6679 5362 – Hotline: +84 916 660 853
Factory:
Add: Lot B26 Road 2, Hai Son IP, Duc Hoa Town, Long An Province
Tel: +84 272 3775 518 - Hotline: +84 918 000 768
E-mail: info@binhminhpat.com
Website: binhminhpackaging.vn | binhminhpat.com